The Crafting Beer Colcha was created by: Barbara Klauke, Heather McCown and Risa Novikoff.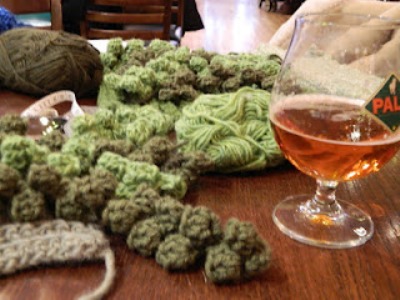 The Colcha: Barbara Klauke was the memeber behind the idea of doing a quilt encompassing the different ingredients of beer; water, barley & hops. They all agreed (while we were drinking our German beers) that this was a perfect idea & split up the tasks & came up with a design- all in the first meeting. '12 bolcks and a bunch of popcorn stitches that was applied to the blocks in the end.The thought was that popcorn stitch most perfectly resembled hops, and using different colors of green would lend to highlighting them.

The Meetings: They begun meeting up at a local German Schnitzel Haus, in Bay Ridge, Brooklyn, on Saturdays.
<