The Crocheting Underwater was created by: Christina Alessi, Kristin Cook-Allen, Jeannine Corey, Nancy Ghani, Stephanie Tichenor.
With contributions from Amanda Mayoff and Geri Warick.
The Colcha : Crocheting Underwater was a collaboration of friends and strangers of seasoned crocheters and some who had never crocheted a stitch. They got together as a group and decided on a very loose underwater theme based on the illustrations of Ernst Haeckel, German biologist/philosopher/artist. The colors of the piece were pretty loose as well based on all that lives under the sea, and the water itself. They started a Facebook group and used the group to plan meeting times and places and to share pictures in between the meetings and to document some of our process in writing.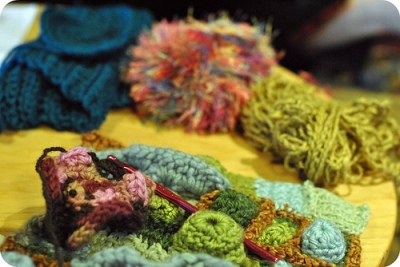 <
The Meetings: The group met once weekly to share progress and frustrations, to teach and learn, and to eat and drink. They rotated homes and met once at a coffee joint, the last few meetings were all held at the same house so they didn't need to travel around with our Colcha once they started joining the small panels together. At the first meeting one woman in the team taught two others how to crochet. They were all impressed on how well they all picked up the stitches and ran with it. The dedication of the members of our group is amazing. Whether it was help via the facebook group, email or over the phone or using there priceless free time on the weekends to meet they all were impressed one anothers dedication. One member in the group really took this dedication to heart. When driving to one of the Colcha meeting she ran out of gas on one of the coldest days of 2012. Not only did that not keep her from making it to the meeting but she walked a mile to get gas and bring it back to her car, also, she was 8 months pregnant. Yes that is dedication!